GOP Rep. Michael Grimm Attacks 'Arch-Conservative Right-Wing' Misleading on ObamaCare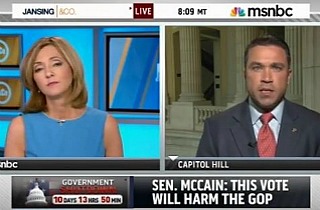 Appearing on MSNBC's Jansing & Co. on Friday, Rep. Michael Grimm (R-NY) attacked the "arch-conservative" members of his party who he said were misleading the Republican base into believing that the Affordable Care Act could be defunded as part of a budget agreement.

Chris Jansing pressed Grimm on whether there was a historical precedent to defund a law as part of any budget agreement, which would likely lead to a government shutdown, in American history.
"I don't want to shut down the government," Grimm countered.
"We're in negotiations," he continued. "Are we going to put our best foot forward at the negotiation and have no leverage whatsoever? Of course not. That would be silly."
"Everyone knows there is a little bit of negotiating going on, positioning and posturing," Grimm said.
"Where does the posturing end and where does the serious stuff begin?" Jansing asked.
RELATED: O'Reilly Clashes with Tea Party Head Over Defunding Obamacare: 'Not Going To Happen'
"First of all, it's all serious, but you do have to have leverage," Grimm replied. "At the end of the day, this is politics."
Grimm attacked Democrats for disingenuously attacking him in robo-calls to his constituents saying that he wants to shut down the government. "They're playing just as much politics on both sides," he said.
But Grimm also had sharp words for the more conservative Congressional Republicans. "I think when you have Senator [Ted] Cruz and others constantly going out and running ads that we can defund Obamacare, I think that hurts the Republican Party," he added.
"So admittedly, we have our own growing pains and we have some things we need to work out among the far, arch-conservative right-wing of our party," Grimm stressed. "And I think this is part of that process, as painful as it is, but it is necessary."
Watch the clip below via MSNBC:
[Photo via screen grab]
— —
> >Follow Noah Rothman (@NoahCRothman) on Twitter
Have a tip we should know? tips@mediaite.com