GOP Rep: Obama, Dems Don't 'Want to Have to Talk About' GOP's Obamacare Alternatives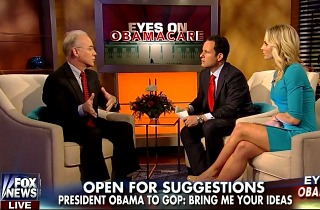 President Barack Obama has often said that he is willing to hear out proposals by Republicans to reform the health care system in the United States, but that the GOP simply does not have an alternative to the Affordable Care Act. On Monday's Fox & Friends, however, Rep. Tom Price (R-G) said the president was wrong on two counts; the GOP does have alternatives and the White House does not want to hear about them.

Price told the Fox & Friends that his health reform plan would provide health coverage for those who are not covered, "but it's coverage that they want, not that the government forces them to buy."
RELATED: Morning Joe Guests Grill GOP Rep. Over Why Republicans Aren't Helping Fix Obamacare
He said that his plan would allow for insurance to be sold across state lines, equalize tax incentives for businesses and individuals to purchase plans, and eliminate the practice of defensive medicine. A former director of the Congressional Budget Office said that Price's plan would reduce premium increases more than the ACA and would increase the number of insured by 29 percent in 2016.
When asked if Obama had shown any interest in Price's ACA alternative, the GOP representative said that he apparently does not.
"This is the third Congress this has been introduced," Price said. "We've contacted the White House repeatedly, and silence. It's crickets."
"The fact of the matter is they don't want to have to talk about the quality of health care, accessibility to health care, affordability of health care," he concluded. "What they want is the government to control health care."
Watch the clip below via Fox News Channel:
[Photo via screen grab ]
— —
> >Follow Noah Rothman (@NoahCRothman) on Twitter
Have a tip we should know? [email protected]