GOP Rep. Peter King: 'No One Has Done More to Strengthen Obamacare Than Ted Cruz'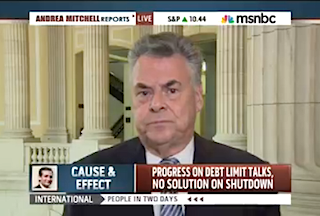 Rep. Peter King (R-NY) continued his all–out assault on Sen. Ted Cruz (R-TX) Friday morning with an appearance on MSNBC's Andrea Mitchell Reports in which he said that "no one has done more to strengthen Obamacare" than his adversary, the tea party senator from Texas.
"This was the strategy of Ted Cruz," King said of the actions that have led the Republican Party to record lows in Gallop's favorability poll. "Going back to mid-September, I said that Ted Cruz was a fraud, there there was a dead-end to this policy, and that it made no sense to follow it." He added, "We cannot allow our party to be taken over by the likes of Ted Cruz and Rand Paul. These are people, isolationists, I consider RINO's, because they don't consider traditional Republican principles."
After viewing footage of Cruz speaking at today's Values Voter Summit, King made his claim about the senator "strengthening" the very law he aimed to dismantle. "Since he started this maniacal crusade of his, the fact is, over the last 10 days, support of Obamacare has gone up 7% in the country," he said. "Not because Obamacare is working, not because it's played out well at all, but because he's given such a bad image to the anti-Obamacare forces.
"President Obama and supporters of Obamacare should thank Ted Cruz," King continued, "because he's their biggest ally right now."
King advised House Speaker John Boehner to seize the current opportunity, re-open the government and raise the debt ceiling and only then begin negotiating over the underlying issues. Sounding an awful lot like President Obama and the Democrats, King said, "As far as tax reform, as far as spending cuts, as far as entitlement reform, that can be done in the context where we don't have a gun to our head or a gun to the head of the financial markets in this country."
Watch video below, via MSNBC:
[photo via screengrab]
— —
>> Follow Matt Wilstein (@TheMattWilstein) on Twitter
Have a tip we should know? tips@mediaite.com