GOP Rep. Peter King To Anderson Cooper: Journalists Should Be Punished For Exposing Classified Info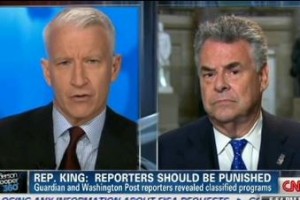 Members of Congress seem to be playing a game of one-upsmanship in their increasingly hawkish reactions to the NSA leaks. Democrat Dianne Feinstein said whistleblower Edward Snowden committed an act of treason, and now Republican Peter King has decided that any journalists who reported the information leaked by Snowden should face criminal prosecution.
Anderson Cooper asked King if he thinks journalists revealing this information should be targeted. "Do you believe they should be punished as well? King said that they unequivocally should, and though he didn't mention any specific names, he was mainly referring to Glenn Greenwald, the Guardian journalist who printed exclusive after exclusive with more information on government surveillance programs.
Here is King's comment in its entirety:
"Actually, if they–if they knew that this was classified information–I think action should be taken, especially on something of this magnitude. I know that the whole issue of leaks has been gone into over the last month. I think something on this magnitude, there is an obligation, both moral but also legal, I believe, against a reporter disclosing something which would so severely compromise national security. As a practical matter, I–I guess it happened in the past several years, a number of reporters who have been prosecuted under us, so the answer is yes to your question."
On Monday, King declared Snowden to be not just a threat to national security, but "dangerous to the country" and a "defector."
Watch King's comments below, courtesy of CNN:
—–
Follow Josh Feldman on Twitter: @feldmaniac
Have a tip we should know? tips@mediaite.com
Josh Feldman - Senior Editor