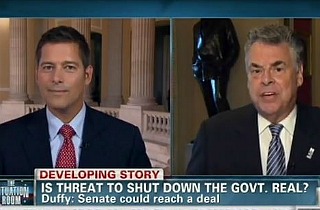 Appearing on The Situation Room with Wolf Blitzer, Rep. Pete King (R-NY) engaged in a debate over the prudence of forcing a battle in the Congress over the Affordable Care Act with Rep. Sean Duffy (R-WI) who supports this strategy. While the pair refused to engage in a heated exchange, King did not spare Sen. Ted Cruz (R-TX) who he said should "keep quiet from now on."

Blitzer began by asking Duffy and King to respond to an opinion piece in the Wall Street Journal who called a strategy of defunding Obamacare through a continuing resolution to fund the government "crazy."
Duffy said Rove's strategy was not unsound, but the House was delivering on a fight over "Obamacare" that the grassroots has wanted for some time.
Blitzer asked if this strategy would include shutting down the government if a defunding resolution fails to pass the Senate.
"America does not like Obamacare," Duffy replied. "Btu that doesn't mean we have to shut the government down. But it does mean we have to engage in this conversation and fight over it."
"I would just say if anything good comes from all of this, when Ted Cruz and Rand Paul or Mike Lee fail in the Senate next week, maybe finally we Republicans will have ended their influence," King asserted.
"We as House Republicans should stop letting Ted Cruz set our agenda for us," he continued. "He should stay in the Senate, keep quiet. If he can deliver on this, fine. If he can't, he should keep quiet from now on and we shouldn't listen to him."
Watch the clip below via CNN:
[Photo via screen grab ]
— —
> >Follow Noah Rothman (@NoahCRothman) on Twitter
Have a tip we should know? tips@mediaite.com