GOP Rep. Previews Questions for Sebelius: 'Who Decided' People Would Lose Insurance?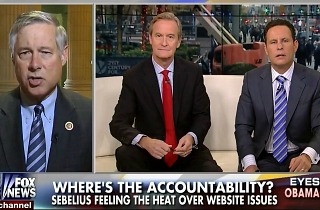 Previewing today's congressional hearing in which members of Congress will hear testimony by Health and Human Services Sec. Kathleen Sebelius, Energy and Commerce Committee Chair Rep. Fred Upton (R-MI) told the hosts of Fox & Friends that the way the White House is handling the Affordable Care Act roll-out is troubling. He asked how a law that intentionally forces people to give up health plans they like could be considered "an American idea?"

Upton said that the administration has not been forthright about the program since it launched on October 1. He said that the administration knows how many people have signed up for the insurance exchanges and that premium increases have skyrocketed—some by as much as 400 percent.
"Why did they make these regulatory changes?" Upton asked when queried about his line of questioning for Sebelius. He said that after the ACA was passed in 2010, the law was amended in order to ensure that up to 67 percent of people with health plans on the individual market would lose that coverage.
"Who decided to do that?" he asked. "And did they tell the president?"
RELATED: Fox News' Greta Van Susteren Out-Journalisms CBS News on Florida Woman's Junk Insurance
Steve Doocy asked if Republican in Congress were worried that the "grand plan" all along was to force people out of their existing plans and into insurance exchanges to make the ACA appear to be a success.
"That could be," Upton replied. "It all started when, of course, they assured us—they looked us in the eye and said, 'You know what, the rollout is going to work just fine.'"
"This is a pretty disastrous start to say the least," he added.
Upton concluded by saying that the Medicare Part D plan "allows for choice" unlike the ACA. "You're not only forced into this plan, you're actually fined if you don't sign up. How is that an American idea?"
Watch the clip below via Fox News Channel:
[Photo via screen grab ]
— —
> >Follow Noah Rothman (@NoahCRothman) on Twitter
Have a tip we should know? tips@mediaite.com