GOP Rep. Proposes Classes On Gender Roles: Fathers Do Some Things 'A Little Bit Better' Than Mothers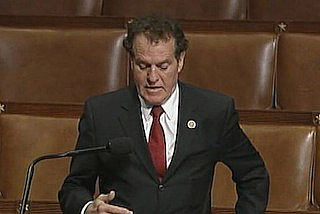 Speaking to a mostly deserted chamber Tuesday afternoon, Georgia Representative Phil Gingrey defended the Defense of Marriage Act by arguing for its underlying logic: traditional gender roles.
Ostenibly addressing the importance of fatherhood, Gingrey proposed schools teach classes on gender distinctions.
"You know, maybe part of the problem is we need to go back into the schools at a very early age, maybe at the grade school level, and have a class for the young girls and have a class for the young boys and say, you know, this is what's important," Gingrey said.
"This is what a father does that is maybe a little different, maybe a little bit better than the talents that a mom has in a certain area. And the same thing for the young girls, that, you know, this is what a mom does, and this is what is important from the standpoint of that union which we call marriage."
The gender-specific skill-sets are essential to the idea of "traditional" marriage, as Gingrey makes clear by referencing his own family.
"Of my three daughters and one daughter-in-law, they all work," Gingrey said. "They all work, some of them full-time, some of them part-time. But they're still there as moms. And when they come home and take over that responsibility, they need a shared partner, and that partner is that partner for life. And I'm talking about, of course, the father."
Gingrey was last heard from saying the Todd Akin's "legitimate rape" comment was "partly right," a judgment he very quickly walked back.
Watch the speech below, via C-SPAN:
[h/t Salon]
—
>> Follow Evan McMurry (@evanmcmurry) on Twitter
Have a tip we should know? tips@mediaite.com