GOP Rep Raul Labrador Calls Out Lawrence O'Donnell's Mormon Bashing On Meet the Press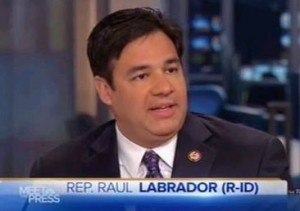 During a Meet the Press panel discussion on the role of religion in the public and political sphere, David Gregory brought up the issue of Mitt Romney's Mormonism in the race. Republican congressman Raul Labrador, who is himself a Mormon, Labrador called out the media in general for being on the Democratic side on a supposed war on religion, but specifically called out one MSNBC host for his recent comments about the Mormon faith.
RELATED: Bill O'Reilly Slams Lawrence O'Donnell For 'Smearing' Mormonism As 'Invented Religion'
Gregory asked Labrador if he believed President Obama's campaign could effectively make the connection between Romney and the Mormon Church stick, or if it would just falter. Labrador answered by saying the media would effectively do that for them. He argued that there is an "overall attack on religious freedom" in this country, pointing to the highly charged contraception debate as an example. Labrador said this wasn't a campaign issue until George Stephanopoulos brought it up in one of the Republican debates.
Labrador suggested that telling politicians to not weigh their religious convictions when they make big decisions would be like telling them to just not be themselves. Gregory asked for a specific rebuttal to the treatment of Mormonism, and that's when the congressman brought up when Lawrence O'Donnell did a less-than-friendly segment about Mormonism last week.
"Look at your own network. MSNBC, you have Lawrence O'Donnell just saying some really nasty things about the Mormon religion, about the founding of our religion, that it was based on some guy just waking up some morning and deciding that… he wanted, he had an extra-marital affair, and that's how the religion was founded. There's some really nasty things already being said by your own network, by NBC."
Watch the video below, courtesy of NBC:
Have a tip we should know? tips@mediaite.com
Josh Feldman - Senior Editor