GOP Rep. Rips Rubio For 'Disgraceful' Fundraising: Don't 'Take Money Out Of Our Pockets' — 'Stay Home'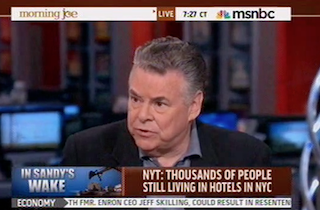 It's safe to say Rep. Peter King (R-NY) is still holding his grudge against those two stood in the way of Hurricane Sandy aid. On Friday, he joined the folks of Morning Joe — and asked about the recovery, King was quick to call out Sen. Marco Rubio for fundraising in New York after voting against the Sandy aid bill. "Stay home," he told the senator.
Speaking about the delay in getting the funds and getting various projects approved, King also noted the initial delay in getting the bill passed. "We're fighters and nobody wants to whine and be a perpetual victim," he noted, adding, "All we wanted was to be treated the same way that we treated the victims in Mississippi and Alabama and Florida."
And then, off he went:
"By the way, guys like Marco Rubio in Florida — all the money your people got in Florida over the years, and this guy has the nerve to vote against money for New York and then come up here and try to raise money? You know, you can forget it."
King said he hasn't spoken to Rubio about this issue specifically, but he's "made it clear" to "any people who voted and postured against money coming to New York and New Jersey and then wants to come up here and take money out of our pockets, forget it, stay home."
Quipping that Rubio won't be inviting him onto his ticket, King later added that he likes Rubio but this fundraising move is "just disgraceful."
King has been vocal on this issue before, railing against those who voted against Sandy aid, calling out Rubio specifically and arguing they should be cut off.
Take a look, via MSNBC:

Have a tip we should know? tips@mediaite.com