GOP Rep. Rogers Blasts Snowden: Just Go To North Korea, Iran To Round Out 'Government Oppression Tour'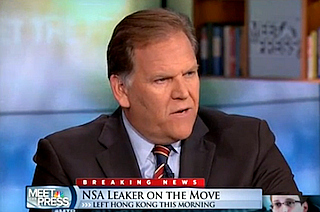 House Intelligence Committee Chair Mike Rogers excoriated NSA whistleblower Edward Snowden for his trip to Moscow and potentially Cuba Sunday morning, telling Meet the Press host David Gregory that, "If he could go to North Korea and Iran, he could round out his government oppression tour."
Unlike Kirsten Powers, who argued yesterday that Snowden's leaks had not harmed national security, Rogers adamantly insisted that Snowden had already given valuable information to terrorist groups about the United States' intelligence operations.
"Clearly, the bad guys have already changed their ways," Rogers said. "Remember, these were counterterrorism programs, essentially, and we have seen that bad guys overseas, terrorists who are committing and plotting atacks on the United States and our allies, have changed the way they operate. We've already seen that. To say that that is not harmful to the national security of the United States or our safety is just dead wrong."
Rogers encouraged Snowden to return to the United States to face justice. "He went outside all of the whistle-blower avenues that were available to anyone in this government, including people who have classified information," Rogers maintained. "We get two or three vis from whistleblowers every single week in the committee, and we investigate every one thoroughly. He didn't choose that route. If he really believed he did something good he should get on a plane, come back, and face the consequences of his actions."
Gregory asked how hard the U.S. should pursue Snowden, or if he had already evaded the chance for capture.
"They should use every legal avenue we have to bring him back to the United States," Rogers said. "I do think we'll continue with extradition activities wherever he ends up and should continue to find ways to return him to the United States and get the United States' public's information back."
Watch the exchange here, via NBC:
—
>> Follow Evan McMurry (@evanmcmurry) on Twitter
Have a tip we should know? tips@mediaite.com