GOP Rep. Explodes in Benghazi Hearing: Video Blaming 'Only Comes from the White House'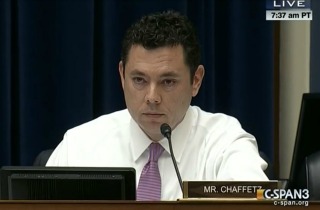 During hearings in the House Oversight Committee on Thursday into the military's response to the attack on an American consulate in Benghazi in 2012, Rep. Jason Chaffetz (R-UT) became animated while probing a witness over his immediate impressions of what was behind that attack. Based on the testimony of the witness, Chaffetz asserted that it was clear the White House was the source of the claim that a video was responsible for that attack.

Chaffetz noted that previous investigations into the Benghazi attack revealed that military commanders became aware of what the assault was attributable to soon after it began. Retired U.S. Air Force Brigadier General Robert Lovell said that it was believed that the attack was linked to Ansar al-Sharia, an al Qaeda affiliate.
"How quickly did you come to the conclusion that you believed they were al Qaeda affiliates or al Qaeda themselves involved and engaged in this attack?" Chaffetz asked.
RELATED: Scarborough Unloads on Co-Host's 'Apologizing for the White House' over Benghazi
"Very, very soon," Lovell replied. "When we were still in the very early, early hours of this activity."
"Was it a video?" Chaffetz probed.
"No, sir," Lovell answered.
Chaffetz said that the CIA station chief in Libya asserted that the attack was "not, not an escalation of protests." Lovell agreed with that assessment.
"The scandal that is here, that some choose to ignore is a phony scandal, is the fact that the CIA, the CIA station chief, the military themselves — you have the person sitting in front of us who's the head of intelligence — he's looking at the intelligence," Chaffetz exclaimed. "They come to the conclusion that it's Ansar al-Sharia."
"And then you also have the Department of State telling the Libyans that it was Ansar al-Sharia," he continued. "None of them think it's a video. None of them."
"The military, the CIA, the CIA station chief, the State Department; all of them, the facts at the time, Mr. Chairman, the facts do not point to a video," the congressman concluded. "That only comes from the White House."
Watch the clip below via C-SPAN 3:
[Image via screengrab]
— —
>> Follow Noah Rothman (@NoahCRothman) on Twitter
Have a tip we should know? tips@mediaite.com