GOP Rep. Sean Duffy Slams MSNBC Host For Being Dishonest About Medicare Reform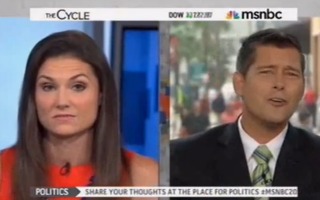 Freshman Rep. Sean Duffy (R-WI) appeared on MSNBC's The Cycle on Wednesday where a heated clash broke out between him and Krystal Ball over the political fight surrounding the Republicans' Medicare reform proposals.

Steve Kornacki asked Duffy to expound on the Republican plan to address the looming insolvency crisis facing Medicare. Kornacki said that the GOP's plan for a voucher system that would run alongside traditional Medicare would imperil benefits for those seniors who count on it. Duffy replied that, while the Republican plan brings choices, Obama's plan cuts $716 billion from the Medicare budget.
This assertion from Duffy seemed to frustrate three of the four hosts of The Cycle who immediately jumped into the conversation. Ball took the lead on calling out Duffy for his assertions which she claimed were disingenuous.
"I think it's very strange – you're someone who believes that Medicare needs to be reformed. I believe that as well," said Ball. "Don't you find it to be counterproductive to the debate for you to be demagoguing against legitimate savings in Medicare where benefits aren't being cut?"
"Krystal you have to be honest," Duffy fired back.
"I am being honest," she responded.
"No, you're not," Duffy asserted. "To take that money out of Medicare and use it for someone else? That is a shame."
"That is not true," Ball asserted as the two engaged in crosstalk, with Duffy insisting that Ball "needs to be honest."
"I think that is such an underhanded tactic," said Ball. "Who is that somebody else?"
Ball went on to say that the cuts in Medicare only reduced a "taxpayer giveaway to insurers and hospitals." She said that Duffy is aware of this and that was why he voted for it in Paul Ryan's original entitlement reform proposals.
Duffy challenged Ball to explain why President Barack Obama removed those funds from Medicare and the seniors who paid into it. "They're getting increased benefits," Ball replied. "Nothing is taken away."
Watch the segment below via MSNBC:
> >Follow Noah Rothman (@Noah_C_Rothman) on Twitter
Editor's note: This post has been edited since its original posting – Jon Nicosia
Have a tip we should know? tips@mediaite.com