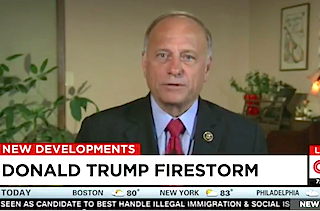 Perhaps it's no surprise that the Iowa congressman who said most undocumented immigrants have "calves the size of cantaloupes because they've been hauling 75 pounds of marijuana across the desert" has no problem with Donald Trump referring to them as drug dealers, rapists, killers and murderers.
When CNN's Chris Cuomo asked Rep. Steve King (R-IA) to respond on Wednesday morning to the comments that have caused so much business — if not political — trouble for Trump over the last couple of weeks, he did not hesitate to defend the presidential candidate.
"I would say to Donald Trump, I appreciate the scrappiness of him," King said of the candidate, "When he's attacked by other people, he counterattacks and plunges forward and he delivers more facts to support the statement that he's made." Sometimes, King added, you have say things "real plain" instead of trying to be "nice" in order to get attention.
Repeating an argument Trump made in Iowa this weekend, King said that "many of these kids that are coming into the United States from Central America are sexually violated and raped."
"I'd say in Donald Trump's defense, someone's doing that to these kids that are being raped and abused," King continued. "And, when they're coming across Mexico, it's a reasonable assumption to conclude the people doing that are Mexicans."
Cuomo fired back at King with this argument: "Saying that you care about border security is one thing. Saying that the people that come across this border are rapists, druggies and criminals is not just statistically untrue, but just unfair on some level, don't you agree with that?"
King would only say that things get "distorted" on both sides of the issue.
Watch video below, via CNN:
[Photo via screengrab]
— —
>> Follow Matt Wilstein (@TheMattWilstein) on Twitter
Have a tip we should know? [email protected]