GOP Rep. Steve King Triples Down On Comparing Immigrants To Dogs, Won't Fully Disavow Birtherism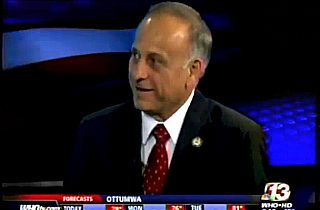 During a Sunday interview with Des Moines NBC affiliate WHO-TV, GOP Rep. Steve King tripled down on his controversial May comments that allowing certain immigrants into the country should be a process similar to choosing a "good bird dog."
The famously anti-immigrant incumbent insisted his comments were a "compliment." He took a shot at his opponents for repeatedly using the quote: "They knew it was a compliment, they turned it into an insult because they're professional hyperventilators."
As a refresher, King said earlier this year that picking immigrants should be like picking a good bird dog — we want to avoid choosing "the one that's sleeping in the corner."
King insists he was praising the "good" immigrants we do allow into America when he said: "You get the pick of the litter and you got yourself a pretty good bird dog. Well, we've got the pick of every donor civilization on the planet."
The local anchor also confronted King over his July comments that President Obama's mother "might've announced [his birth] by telegram from Kenya" to Hawaii, where a birth announcement appeared after Obama was born there. The comments were an implicit endorsement of "birtherism," or the belief that Obama was not actually born in the United States, despite a birth certificate proving otherwise.
Addressing this controversy, King responded that he was just repeating the questions and concerns of other people, while refusing to disavow birtherism in its entirety. "I don't know where he was born, but I don't see the indication that he was born anywhere else," he said.
King is currently facing a congressional seat challenge from Iowa's former First Lady Christie Vilsack. At this point in the race, most polls show King leading by a narrow margin.
Watch below, via WHO-TV
[h/t HuffPost]
— —
>> Follow Andrew Kirell (@AndrewKirell) on Twitter
Have a tip we should know? tips@mediaite.com