GOP Rep. Suggests CENTCOM Hack Committed by 'Radical Islamists' Within U.S. Military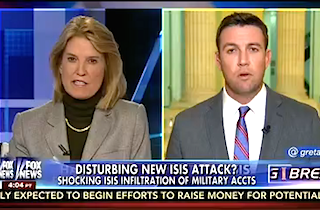 When a group claiming to be ISIS took over the Twitter and YouTube accounts of U.S. Central Command (CENTCOM) Monday afternoon, the Department of Defense characterized the incident as "a case of cybervandalism" and nothing more. But Fox News' Greta Van Susteren is sure that there is more to the story than that, and for more information she turned to Rep. Duncan Hunter (R-CA), the same man who recently made false statements about ISIS members getting stopped at the U.S. border.
Hunter said the worst part of this story is the "propaganda" angle it gives to whatever jihadist-aligned group committed the act. "To the folks that don't have computers, a lot of them in the Middle East, this is going to look like a big deal, where they can go home and say we hacked the Department of Defense," he said. "When, in reality, they did not hack the Department of Defense. Whoever it was hacked Twitter and YouTube. And that's it."
Van Susteren continued to press Hunter on how the hackers managed to find and post personal information of former military generals, information the congressman said is easily and widely available to anyone who knows where to look. But does that mean the hackers "got into the military computers somehow," she wanted to know.
"They probably — I mean, I would guess that they have — that there are folks that are bad folks, radical Islamists that are probably in the military," Hunter said, without offering up any evidence to back up that shocking claim. "You probably have a few of those. But I don't think anything that compromises U.S. security was touched in this intrusion."
So, don't worry everyone. The cyberattack on CENTCOM's social media is no big deal, but a member of Congress is pretty sure "radical Islamists" have infiltrated the U.S. military.
Watch video below, via Fox News:
[Photo via screengrab]
— —
>> Follow Matt Wilstein (@TheMattWilstein) on Twitter
Have a tip we should know? tips@mediaite.com