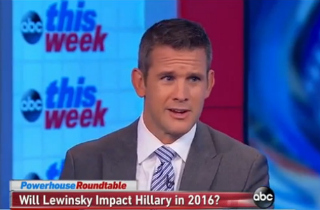 The GOP fracture between hawks and occasional noninterventionists continued this weekend when Rep. Adam Kinzinger (R-IL) appeared on ABC This Week and suggested a Rand Paul 2016 run would be "devastating" because of the libertarian-leaning senator's support for cuts to defense spending.
For 2016, "I'd love to see Jeb [Bush]," Kinzinger said Sunday to moderator George Stephanopoulos. "I'd love to see Chris Christie, and Paul Ryan would be a great candidate," he added.
However, he continued: "The one person I don't want to see is someone like Rand Paul who put out budgets to cut the military in half. I think that would be devastating for our party right now on national security."
With that brief stab at Senator Paul, Kinzinger — an outspoken security hawk and former Air Force pilot — echoed the wary sentiments of the likes of Sens. John McCain, Lindsey Graham, and hawkish pundits like Bill Kristol, all of whom seem to loathe the prospect of a "realist" Republican in office.
And, of course, that "gutting the military" line the hawks frequently use against Rand Paul is patently false.
As PolitiFact wrote of Kinzinger's claims:
In 2011, Paul released a budget proposal that reduced annual defense spending quite significantly, but not anywhere near 50 percent. There are different ways to measure the reductions, but they're in the range of 25 to 30 percent.

Paul later unveiled another budget that actually increased year-over-year defense spending, though it did not keep pace with estimated projections in growth.
In other words, Sen. Paul's proposals to "slash" military spending are really just cuts to the rate of increase. Paul's baseline figures for the Department of Defense seven years from now are still higher than CBO projections for non-war spending.
Nevertheless, expect hawks like Kinzinger to continue parroting this line as Paul's presidential run becomes more apparent. Because nothing is more terrifying for the fiscally conservative Republican Party than the prospect of cutting government spending. Wait… what?
Watch Kinzinger's remarks below, via ABC:
[h/t Daily Caller]
— —
>> Follow Andrew Kirell (@AndrewKirell) on Twitter
Have a tip we should know? [email protected]