GOP Reps Call Out CNN Anchor in Battle over Shutdown: 'Whose Bidding Are You Doing?'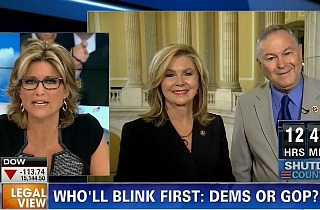 A CNN interview with GOP Reps. Dana Rohrabacher (R-CA) and Marsha Blackburn (R-TN) exploded on Monday as anchor Ashleigh Banfield tore into the House GOP conference over what appears to be a likely government shutdown over the effort to defund Obamacare through the budget process.

Blackburn began by blaming the Senate for failing to act on the budget measures the House sent them. She insisted that the House GOP does not want to shut the government down.
"It sounds so simple when you say it like that," Banfield replied. "It reminds me of the time in the Middle East when the Palestinians and the Israelis say that you want peace, but you both want your way and neither wants to blink in the ridiculous staring contest where we're the ones who need the Visine."
Banfield pressed Rohrabacher over why the House has decided to make this stand over Obamacare in grave and serious terms.
RELATED: NY Times Buries The Lede: Anderson Cooper's Ratings Surge At 8PM
"Well, have you addressed that to the Senate?" Rohrabacher replied. "You are acting and telling the listeners that we republicans are holding this up, and the government is going to shut down. We have actually reached out to the democrats with a compromised position…"
"Don't you dare put this back on me," Banfield replied. "You can't make something up."
Both Banfield and the House members talked over each other while Rohrabacher accused Banfield of having them both on her show to "give us a tirade."
"You can't make up facts sir," Banfield pressed.
Rohrabacher accused Banfield of playing the same game the Senate is playing, refusing to even talk to the House GOP about their compromise which would continue to fund the government. "Whose bidding are you doing?" he asked.
Banfield insisted that she only did not invite Democrats on her program, only Republicans.
The interview concluded with Banfield prodding both House members to confirm whether they would surrender their paychecks in the event of a government shutdown. She demanded a "yes" or "no" answer, but the House members would only insist that they believed that the consequence of a shutdown should be felt by every federal employee.
"We like to pay you your big salaries, but we would like to you to do more," Banfield concluded. "You're like intransigent kids."
Watch the clip below via CNN:
[Photo via screen grab ]
— —
> >Follow Noah Rothman (@NoahCRothman) on Twitter
Have a tip we should know? tips@mediaite.com