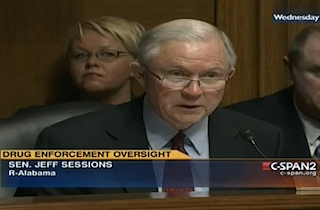 During a Senate Judiciary hearing with the head of the Drug Enforcement Agency this week, Sen. Jeff Sessions (R-AL) invoked comments made by President Barack Obama about marijuana to argue that the drug is more "dangerous" that Americans have been led to believe. "I think some people are irresponsible in what we are hearing particularly about marijuana," Sessions said, before quoting remarks Obama made to The New Yorker's David Remnick earlier this year.
"I thank you for you and some of your officials in DEA for speaking out and telling the truth about the dangers of marijuana," Session told DEA Administrator Michele Leonhart. "This is not a non-dangerous drug." After saying he's worked for years to "explain the dangers of drug use," the senator said he found it "painful" to hear President Obama equate the harm of marijuana to cigarettes or alcohol.
Sessions quoted Obama as follows: "'As has been well documented, I smoked pot as a kid, and I view it as a bad habit and a vice, not very different from the cigarettes that I smoked as a young person up through a big chunk of my adult life. I don't think it is more dangerous than alcohol.'"
"That is the President of the United States gratuitously making a statement of extraordinary importance that has the potential to eviscerate the work of thousands of Americans, hundreds of thousands, really, who are trying to explain the dangers of drugs," Sessions said in response to the president's words.
Considering the fact that in this country alone there are an estimated 88,000 alcohol-related deaths per year and more than 480,000 tobacco-related deaths per year, isn't it possible that Obama was actually being too hard on marijuana?
Watch video below, via C-SPAN 2:
[h/t Raw Story]
[Photo via screengrab]
— —
>> Follow Matt Wilstein (@TheMattWilstein) on Twitter
Have a tip we should know? tips@mediaite.com