GOP Sen. Candidate Bashes 'Moron' Trent Franks For Rape Remarks: 'Stupid Has No Specific Affiliation'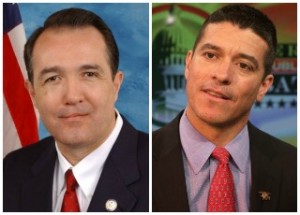 In the midst of a continuing national debate over government surveillance, Republican congressman Trent Franks has reignited the controversy that plagued Todd Akin in last year's election with comments that there is a low incidence of pregnancies that result from rape. One of Franks' harshest critics is a member of his own party, Massachusetts Senate candidate Gabriel Gomez, who described Franks as a "moron" and living proof that "stupid has no political affiliation."
Gomez told ABC News earlier today that he does not support Franks' bill to impose a national ban on abortions after 20 weeks, and while Gomez himself is anti-abortion, he said he would not want to "change any laws" to limit women's ability to get abortions.
RELATED: GOP Rep. Trent Franks Pulls An Akin? 'The Incidence Of Rape Resulting In Pregnancy Are Very Low' (AUDIO)
But when asked what he thought of Franks' comments, Gomez was blunt.
"I think that he's a moron and he proves that stupid has no specific political affiliation," Gomez told ABC News of his fellow Republican.

"I have no idea what goes into the mind of a moron like that," he added. "These kinds of comments only come from a moron and they shouldn't be tolerated one bit."
This is not the first time Gomez has been so direct in insulting an elected official. Last month, in response to an attack ad lobbed by the opposition, he referred to his Democratic rival Ed Markey as "pond scum."
h/t POLITICO
—–
Follow Josh Feldman on Twitter: @feldmaniac
Have a tip we should know? tips@mediaite.com
Josh Feldman - Senior Editor