GOP Sen. Coburn Trashes Sequester Cuts, Says Washington Is 'Dysfunctional In A Dysfunctional Way' On NBC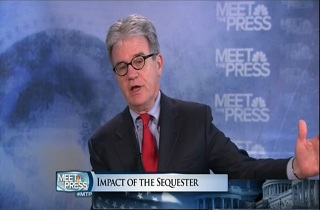 Oklahoma Senator Tom Coburn told NBC's David Gregory on Meet The Press this morning that he "won't stop peppering" President Obama over his sequester cuts and that the cuts being implemented are an example of a dysfunctional Washington.
Coburn said he disagreed with the president on the sequester cut because he sees over $200 billion in waste a year in the federal budget.
"I've spent eight years looking at every spending item in the federal government, and we waste easily $200 billion a year in totally ineffective or duplicative programs. Look, I'm not going to stop peppering him. I've got an ammo drawer full of things to complain about when they say we're not going to have enough people in the FAA towers or they can't get a ship back refueled. I could show them all the things, the stupid things they have done over the last two years that we can stop doing, that we do everything that we need to do in this country," said Coburn.
"Look, the real problem, David, is Washington is dysfunctional, but it's dysfunctional in a dysfunctional way. Members of Congress and the administration agree on too much. We agree on spending money we don't have. We agree on not oversighting the programs that should be oversighted. We agree on continuing to spend money on programs that don't work or are ineffective. Basically we agree on too much," said Coburn.
Coburn told Gregory that he thinks Congress needs to think about a long-term plan for what the legitimate role of government is in the United States.
Watch below clip via NBC:
Have a tip we should know? tips@mediaite.com