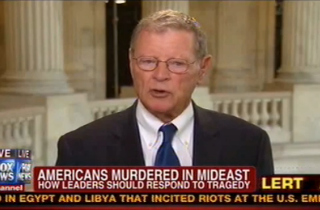 On Fox & Friends Thursday morning, Sen. James Inhofe (R-OK) said that the violent attacks on U.S. diplomatic properties in Libya and Egypt were the direct result of what he perceives to be President Barack Obama's ongoing policy of appeasement in the Middle East.
Inhofe told the Fox hosts that he'd like to begin immediately with Congressional hearings investigating how security failed at the Libyan consulate where U.S. Ambassador Christopher Stevens was killed late Tuesday night. "You can start them tomorrow. These hearings should start," Inhofe said.
"Let's keep in mind, this is a big deal," the senator continued. "We have four countries right now attacking America. When you attack an embassy, you're attacking America. We can't sit around and wait for hearings. We've got to do it right now," he said when asked whether he hopes hearings could start before Election Day.
Host Steve Doocy and Inhofe then went on to characterize the president's initial foreign tour as his "apology tour," leading Doocy to ask the senator whether this week's attacks were a result of that and other elements of the Obama foreign policy.
"Yeah. What foreign policy? The policy of appeasement," Inhofe replied. "Yes, it's happening as a result of that."
He then went on to criticize Obama for what he believes is an unfriendly tone with the American allies in Israel: "For the first time since the [Israeli] independence back in the '40s, [we] have a president who is trashing Israel, our only friend there. So this thing is huge. We mentioned four countries — let me tell you, it's not going to stop there. There is war against America throughout the entire region. They're attacking us now."
Watch below, via Fox News:
— —
>> Follow Andrew Kirell (@AndrewKirell) on Twitter
Have a tip we should know? tips@mediaite.com