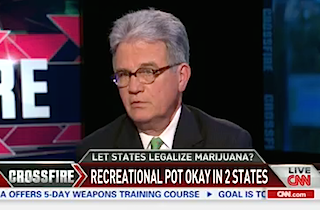 Today, Washington became the second state to legalize recreational marijuana, after Colorado did the same earlier this year. During an appearance on CNN's Crossfire, Sen. Tom Coburn (R-OK), who is one of three medical doctors serving in the Senate, predicted that the current experiment happening in those states would end in "tragedy."
"There's never been a positive study on recreational marijuana," Coburn said. "And the connection to further drug use, the connection to depression, connection to lack of motivation — There is nothing positive that comes out of it."
He cited a study that showed smoking one marijuana joint has the same carcinogenic effect as smoking 18 (or 20) cigarettes. Likely, he was referring to this study from the British Lung Foundation, which found that smoking one cannabis cigarette a day for a year increases the risk of lung cancer by 8% while smoking 20 tobacco cigarettes a day for a year increases the risk of lung cancer by 7%. Though casual marijuana users generally do not smoke at quite that level.
Coburn also took the opportunity to criticize the Obama administration for failing to enforce federal law in states that allow recreational marijuana use. "Legally, under the Drug Enforcement Administration and under the law, states shouldn't be allowing marijuana to be sold, because it is a controlled substance," he said.
But Coburn seemed to express a contradiction when he clarified, "I think we should either change our law up here to say it's not a controlled substance or enforce our law." Calling himself "pretty much a state's rights" guy, he said he thought the federal government "shouldn't be regulating" marijuana and it should be left up to the states, which would mean it would remain legal in Colorado and Washington, as residents there have voted it should be.
"But it's still stupid," he added. "We're free to be stupid in this country, and it's really stupid in Colorado right now." He noted that he was in Breckinridge, Colorado recently, where pot is legal. "And, boy could you smell it."
Later, host Newt Gingrich acknowledged the difficulty Republicans have with this issue. "This a great challenge for conservatives," he said. "If you believe in the Tenth Amendment, then states ought to be able to run certain kinds of experiments. And we'll find out what happens."
Watch video below, via CNN:
[Photo via screengrab]
— —
>> Follow Matt Wilstein (@TheMattWilstein) on Twitter
Have a tip we should know? tips@mediaite.com