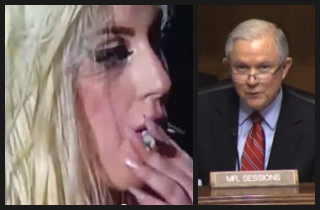 Sen. Jeff Sessions (R-AL) railed against legalization of marijuana on Wednesday morning, citing a Lady Gaga quote about marijuana being addictive as evidence that the drug is harmful and therefore should be kept illegal.
While questioning U.S. Attorney General Eric Holder during a Department of Justice hearing, Sessions blasted the president for telling The New Yorker that marijuana is safer than alcohol (Hint: it is).

"Did the president make, conduct, any scientific survey before he waltzed into The New Yorker and opined contrary to the position of attorney generals [sic] and presidents universally prior to that?" the lawmaker asked. "Did he study any of this data before he made that statement?"
Holder denied having ever had consultations with the president about marijuana's relative harm factors. In response, Sessions pressed on, citing several medical studies that reportedly correlate heavy cannabis use among adolescents with "impairments in neuro-cognitive performance" and memory loss.
The Attorney General responded that while he doesn't dispute those studies, having not seen them, he emphasizes that one of the future enforcement priorities will focus on "the prevention of marijuana to minors."
"Well, Lady Gaga said she is addicted to it and it is not harmless," Sessions pushed back. "She's been been addicted to it. Patrick Kennedy, former Congressman Kennedy, said the president is wrong on this subject."
He concluded: "I just think it's a huge issue. I hope that you will talk with the president, you're close with him, and begin to push back, or pull back, on this position that I think is going to be adverse to the health of America."
Watch below:
[h/t ThinkProgress]
[Image via YouTube]
— —
>> Follow Andrew Kirell (@AndrewKirell) on Twitter
Have a tip we should know? tips@mediaite.com