GOP Sen. Thad Cochran Has Absolutely No Idea That Eric Cantor Lost?
GOP Sen. Thad Cochran Seemingly Unaware of Eric Cantor's Loss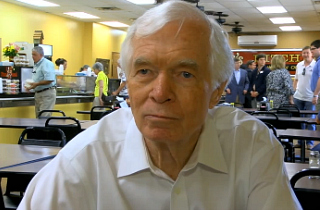 Three days after House Majority Leader Eric Cantor became national political news fodder by losing a primary election to tea party challenger Dave Brat, embattled GOP Sen. Thad Cochran has seemingly no idea what happened.
To repeat: A sitting U.S. Senator has no idea that the second-most important member of his own party in the U.S. House of Representatives was just unseated in a major primary defeat.

During an interview with Fox News on Friday, Cochran was asked whether he believes Cantor's defeat means anything for his own Mississippi GOP primary runoff election against tea party challenger Chris McDaniel. The exchange that followed is… surprising:
COCHRAN: I don't know what you're talking about. What happened in Virginia?

FOX NEWS: With Eric Cantor losing his seat.

COCHRAN: Well, I haven't really followed that campaign very closely at all.

FOX NEWS: Really?

COCHRAN: Really.

FOX NEWS: So you have no comment that you want to make?

COCHRAN: No, I can make a comment. You asked me what happened, I don't know. I didn't follow that campaign very closely.

FOX NEWS: Well, Eric Cantor lost his seat and Majority Leader.

COCHRAN: Yeah, well, that happens. You know, members of Congress, some win, some lose.
He may face that very same fate come June 23's primary runoff.
UPDATE — 4:26 p.m. ET: Cochran apparently had no trouble answering questions about Cantor just minutes before. So… as the Daily Beast's Ben Jacobs suggests, the 76-year-old senator was just being "peevish" and "crotchety."
Watch below, via Fox:
[h/t Alyssa Farah]
— —
>> Follow Andrew Kirell (@AndrewKirell) on Twitter
Have a tip we should know? tips@mediaite.com