GOP Sen. Toomey: Background Checks Are Not 'Gun Control,' They're 'Common Sense'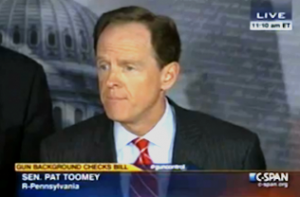 Pennsylvania Republican Senator Pat Toomey became one of the most outspoken conservative voices defending background checks for gun purchases when he appeared Wednesday morning with colleague Sen. Joe Manchin III (D-WV) to announce their compromise measure that could greatly increase the larger gun safety bill's chances in the Senate.
Toomey made the appeal to his fellow conservatives in the Senate by saying he doesn't "consider criminal background checks to be gun control. I think it's just common sense."
"If you pass a criminal background check," Toomey explained, "you get to buy a gun. No problem. It's the people who fail a criminal or a mental health background check that we don't want having guns."
Toomey, who is up for re-election in 2014, went on to outline his reasoning for joining Manchin in putting together the compromise. He said that since he thought it was "inevitable" that some gun legislation would reach the Senate floor, he wanted to make sure that whatever bill does receive a vote does not infringe on Second Amendment rights. He added that "nothing in our amendment prevents the ownership of guns by any lawful person, and I wouldn't support it if it did."
"The common ground rests on a simple proposition," Toomey said of the compromise. "And that is that criminals and the dangerously mentally ill shouldn't have guns. I don't know anyone who disagrees with that premise, from either political party or whatever folks' views might be on broader gun rights issues."
While the Manchin-Toomey amendment does expand the current background check system to include firearms sold between private parties at gun shows and over the internet, it does not include "noncommercial person-to-person" sales. This means that under the new compromise, guns could still be given as gifts between family members or even sold between neighbors without any background checks taking place.
Watch video below, via C-SPAN:
—
>> Follow Matt Wilstein (@TheMattWilstein) on Twitter
Have a tip we should know? tips@mediaite.com