GOP Senate Candidate Calls UCSB Shooting 'Unfortunate Accident'; Dems Capitalize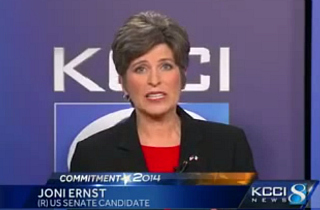 Republican U.S. Senate candidate and current Iowa State Sen. Joni Ernst referred to Elliot Rodger's mass shooting near UCSB as an "unfortunate accident" on Thursday night, leading to her Democratic opponents capitalizing on the remark.
The comment came during a televised GOP primary debate, in which the moderator asked Ernst about a controversial ad her campaign ran featuring her firing a gun while promising the "unload" on the Affordable Care Act. Based on a viewer email, the question focused on whether the ad was insensitive and "hateful" considering major mass shootings of the past four years, most recently the UCSB massacre.
"I would say to this viewer that what happened in that shooting and that stabbing is an absolute tragedy," her answer began. "However, I remain firm in my commitment to the Second Amendment. I have been endorsed by the NRA in this race and, again, just because of a horrible, horrible tragedy, I don't believe we should be infringing upon people's Second Amendment rights."
Asked whether she would alter the ad in light of Rodger's shooting spree, she responded:
"I would not — no. This unfortunate accident happened after the ad, but it does highlight that I want to get rid of, repeal, and replace [Democratic opponent Rep.] Bruce Braley's Obamacare. And it also shows that I am a strong supporter of the Second Amendment. That is a fundamental right."
As Talking Points Memo pointed out, her Democratic opposition was quick to jump on her use of the word "accident" when describing the UCSB shootings:
.@JoniErnst I won't dismiss a terrible tragedy as an "accident" either – http://t.co/F4DiX41BfH #IASen #IA01

— Dave O'Brien (@OBrienForIowa) May 30, 2014
But in a statement to Business Insider's Hunter Walker, Ernest spokesman Derek Flowers hit back at Dems for capitalizing upon one word: "As she said when she first answered the question, Joni believes that this was a terrible tragedy. It's outrageous that Democrats are politicizing and playing gotcha politics with this tragedy."
Watch Ernst's remark below, via KCCI-TV:
[h/t TPM]
— —
>> Follow Andrew Kirell (@AndrewKirell) on Twitter
Have a tip we should know? tips@mediaite.com