GOP Senate Candidate: Conception From Rape 'Is Something That God Intended'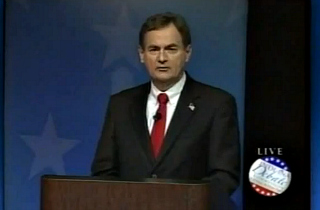 During Tuesday night's senatorial debate in Indiana, Republican candidate Richard Mourdock generated quite a bit of controversy while defending his belief that abortion should remain illegal even in the event of a rape.
Mourdock, who currently serves as Indiana Treasurer, explained to the audience that a pregnancy resulting from rape — like all other pregnancies — is the will of God. And thus he does not believe there should be an exception made for such cases.
After explaining his firm belief that "life begins at conception" and that he only believes in exceptions for cases where the mother's life is in danger, the Republican candidate said:
"I've struggled with it myself for a long time, but I came to realize that life is that gift from God. And even when life begins in that horrible situation of rape, that it is something that God intended to happen."
Naturally, such a remark became fodder for controversy. Following the debate, Mourdock reportedly attempted to backpedal on his comments. According to the Evansville Courier & Press, he told reporters: "Are you trying to suggest that somehow I think God ordained or pre-ordained rape? No, I don't think that anyone could suggest that. That's a sick, twisted – no, that's not even close to what I said."
But he also confirmed that he does, indeed, believe that even conception from rape is the will of a higher power: "It is a fundamental part of my faith that God gives us life. God determines when life begins," he told reporters. "I believe in an almighty God who makes those calls. […] There are some things in life that are above my pay grade."
Mourdock's Democratic opponent Rep. Joe Donnelly is also anti-abortion, but with exceptions for rape, incest, and mother's life. After the debate, the Democrat released a statement blasting Mourdock's comments as "disturbing":
"The God I believe in and the God I know most Hoosiers believe in, does not intend for rape to happen—ever," Donnelly wrote, according to TPM. "What Mr. Mourdock said is shocking, and it is stunning that he would be so disrespectful to survivors of rape."
Watch Mourdock's remarks below, via C-SPAN:

[h/t
TPM
]
— —
>>
Follow Andrew Kirell (@AndrewKirell) on Twitter
Have a tip we should know? tips@mediaite.com