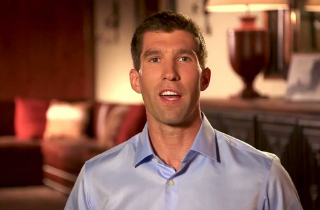 Speaking at a Denver GOP breakfast event this month, a conservative Republican candidate for U.S. Senate made a snarky comment about President Obama being "from Kenya", playing off the beliefs of "birther" conspiracists who insist the president was born in the African country and has falsified his American birth documents.
State Sen. Owen Hill is one of several Republican lawmakers vying for the GOP nomination to challenge incumbent Democratic Sen. Mark Udall in fall 2014. According to BuzzFeed, Hill made the joke at the Denver County Republican Party's First Friday Breakfast on Nov. 1:
…You spend time out there [in a Kenyan slum] and little kids are running around barefoot in these kinds of streets and you ask them what they want to be. They want to be an astronaut, they want to be a physicist, a marine biologist, one kid even told me he wanted to be President of the United States. I held back my snarky comment that said "Well, you know what, we already have someone from Kenya."
The audio was recorded by a Democratic operative in the room and given to BuzzFeed. The tape cuts off immediately after some audience laughter.
Hill is currently one of six candidates vying for the GOP nomination in the 2014 senatorial race. He faces a tough primary race against, among others, fellow State Sen. Randy Baumgardner, previous unsuccessful senate candidate Ken Buck, and potentially former Gov. Bill Owens. Hill did, however, receive a substantial boost recently when former Rep. Ron Paul endorsed his candidacy.
Listen to the audio below, as obtained by BuzzFeed:

[h/t BuzzFeed]
— —
>> Follow Andrew Kirell (@AndrewKirell) on Twitter
Have a tip we should know? tips@mediaite.com