GOP Sen. Fights Cruz on Senate Floor: Why Did You Vote For Something You Spent 21 Hours Filibustering?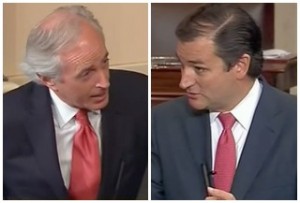 Tennessee Senator Bob Corker hasn't been shy about taking on his Republican colleagues over defunding Obamacare, tweeting last week it is a "box canyon" tactic that will "fail and weaken our position." On the Senate floor Thursday, Corker called out Ted Cruz for voting for initial cloture on a bill he spent 21 hours filibustering, getting into a back-and-forth with his Texas colleague and suggesting he may be "confused" about what the Senate's actually taking up.
Corker told Cruz it was odd that "the reason you're waiting is that y'all have sent out releases, e-mails, and you want everybody to be able to watch," saying this is not in the interests of the country, let alone the Senate Republicans. Cruz patiently explained to Corker that he was planning to vote affirmatively with the rest of the Senate on Wednesday, and what he was objecting to was the cloture vote to shut down debate, which would then allow Senator Harry Reid to put in an amendment to defund Obamacare, which the Democratic majority would then vote for.
Corker referred to Cruz's filibuster as a "show" "taking priority over getting legislation back to the House so they can take action, and still couldn't quite understand why Cruz would vote against cloture on a bill the Republicans support.
Cruz stood firm, insisting that House Republicans support a vote against cloture, and touting how they would be able to prevent the bill from going to the floor of the Senate if Republicans stood united. Corker responded, "I think the senator from Texas may be confused."
Watch the video below, via C-SPAN 2:
[photo via screengrab]
— —
Follow Josh Feldman on Twitter: @feldmaniac
Have a tip we should know? tips@mediaite.com
Josh Feldman - Senior Editor