GOP Senator Goes on Epic Anti-Trump Rant When Asked Why He Hasn't Endorsed Yet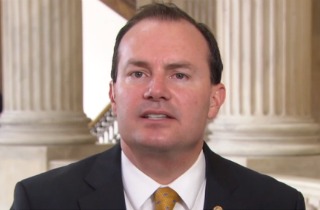 An interview between Newsmax's Steve Malzberg and Republican Senator Mike Lee got heated after Malzberg pushed Lee to endorse Donald Trump, leading the Utah senator to go on an extended anti-Trump rant.
Malberg pressed Lee on the issue, saying that a Hillary Clinton presidency would be far more dangerous to the Constitution. "Hey look, Steve, I get it. You want me to endorse Trump," Lee replied.
"I don't understand why you're not, really," Malzberg admitted.
Lee responded by making it perfectly clear why he wasn't: "We can get into that if you want. We can get into the fact that he accused my best friend's father of conspiring to kill JFK. We can go through the fact that he's made some statements that some have identified correctly as religiously intolerant. We can get into the fact that he's wildly unpopular in my state, in part because my state consists of people who are members of a religious minority church — a people who were ordered exterminated by the governor of Missouri in 1838 — and, statements like that make them nervous."
The senator did say that he would reconsider "…if I heard the right things… But don't sit here and tell me, Steve, that I have no reason to be concerned about Donald Trump."
Malzburg bristled a bit, asking if Lee was opposing Trump for personal reasons because of his attacks on Rafael Cruz. "He said that! He actually said that. He said that without any scintilla, without a scintilla of evidence. Now that concerns me," Lee responded.
"I'd like some assurances that he's going to be a vigorous defender for the U.S. Constitution," he continued. "That he's not going to be an autocrat, that he's not going to be an authoritarian, that he's not somebody whose going to abuse a document to which I've sworn an oath to uphold and protect and defend. I'm sorry, sir, but that is not an unreasonable demand."
Watch above, via Newsmax.
[Image via screengrab]
——
>>Follow Alex Griswold (@HashtagGriswold) on Twitter
Have a tip we should know? tips@mediaite.com