GOP Senator Graham Stands Against Rand, Calls Premise For Paul's Filibuster 'Ridiculous' On Fox
GOP Sen. Graham Stands Against Rand, Calls Premise For Paul's Filibuster 'Ridiculous' On Fox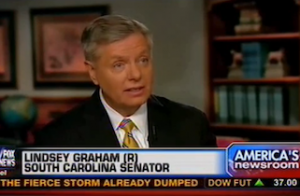 Sen. Rand Paul (R-KY) is the hero of the Republican Party Thursday morning, after staging a nearly thirteen hour filibuster to protest the narrow issue of John Brennan's CIA director nomination and the broader controversy of civil liberties and potential drone strikes on Americans.
Everyone from Joe Scarborough to Michelle Malkin is praising his impressive dedication to a cause about which he clearly feels strongly. But at least one of Paul's GOP colleagues in the Senate is speaking out against him.
In a brief clip shown on Fox News this morning, Sen. Lindsey Graham (R-SC) declared that the Obama administration's drones program has made the country "safer." He added, "this idea that we would use a drone to attack an American citizen in a café in America is ridiculous."
The idea of targeting American citizens while they are "sitting in a café" was first brought up by Sen. Paul during an interview with Fox in mid-February. He and others repeated the hypothetical scenario several times throughout Wednesday's filibuster.
This is not the first time Graham has spoken out against Paul on the drones issue. Last month on Fox News Sunday Graham openly disagreed with Paul's opposition to Brennan's nomination, telling Chris Wallace, "I think the worst thing in the world is to have the courts decide who to target in the war on terror." He admitted, "I don't think you need a drone to attack an Al Qaeda operative inside the United States," but did not rule it out completely. "I very much believe we're at war," Graham said, "and any American citizen who aids Al Qaeda should be treated as an enemy combatant not a common criminal."
Watch video below, via Fox News:
—
>> Follow Matt Wilstein (@TheMattWilstein) on Twitter
Have a tip we should know? tips@mediaite.com