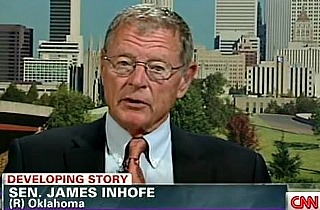 Sen. James Inhofe (R-OK) told CNN's John Berman on Friday that it is his opinion that the United States is too financially overextended and the military has been degraded to the point that the country is unable to support President Barack Obama's proposed intervention into the Syrian civil war. Inhofe told the guest host of CNN's The Lead that America does not "have the assets" to halt the atrocities in Syria.

RELATED: Rand Paul Vows: 'I Will Do Everything I Can' to Prevent Obama From Striking Syria
Inhofe told Berman that, while he believes the White House's assertion that Bashar al-Assad's regime orchestrated a number of chemical attacks on civilians, he does not support American intervention.
"I've watched what's happened in the last four and a half years with the president downgrading our military," Inhofe said. "It's to the point where we're in a position right now where we don't have the assets to get involved in another intervention."
"You did seem to feel differently about the threat of chemical weapons in the run-up to the Iraq War in 2002, 2003," Berman observed. "You did support that effort which turned out to be incredibly expensive."
"The difference is we were a very healthy military at that time," Inhofe replied. "We had the assets. We had the resources to go anywhere that we wanted to go to do the things that we felt in our mind were right."
"That's not the situation today," he concluded.
Inhofe said he was not clear if American credibility will be diminished if there is no intervention in Syria.
Watch the clip below via CNN:
—
> >Follow Noah Rothman (@NoahCRothman) on Twitter
Have a tip we should know? tips@mediaite.com