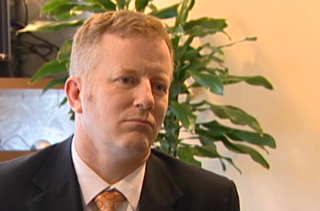 Another day, another lawmaker comparing some current policy to Nazi Germany.
Tennessee State Sen. Stacey Campfield (R-7th District) wrote on his blog Monday morning that, well… just read the quote below as flagged by Nashville Scene:
Thought of the day.

Democrats bragging about the number of mandatory sign ups for Obamacare is like Germans bragging about the number of manditory [sic] sign ups for "train rides" for Jews in the 40s.
Tennessee GOP's chairman Chris Devaney publicly rebuked Campfield with a statement:
"While Stacey Campfield routinely makes remarks that are over the top, today's comments are ignorant and repugnant. No political or policy disagreement should ever be compared to the suffering endured by an entire generation of people. Those comments have no place in our public discourse. He should offer an apology to members of the Jewish faith immediately."
As of 2:10 p.m. ET, the blog post is still live on Campfield's website. As the GOP chairman noted, the lawmaker has a penchant for making over-the-top remarks, so it wouldn't come as a surprise if he stands by this one.
Here's the blog post for posterity: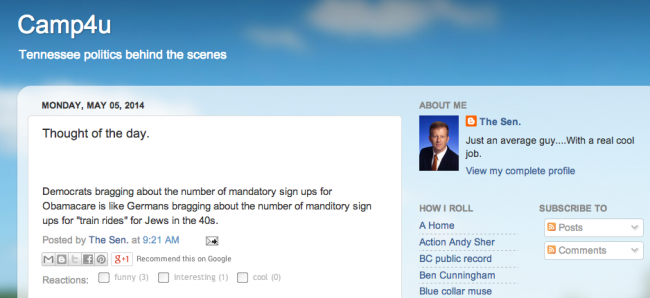 Update — May 5, 4:13 p.m. ET: In an interview with the Associated Press, Campfield dismissed the criticism:
"I think Jewish people should be the first to stand up against Obamacare," Campfield said. "When you have government deciding who gets health insurance and who doesn't, what services they get and what services they have to provide, they're really deciding who lives and who dies."

"It's a slippery slope," he said.

[…] Campfield said Monday he was unmoved by the criticism from the chairman of his own party.

"He never called me," he said. "If he wants to apologize to Obama, he can."
[Image via WBIR/screengrab]
— —
>> Follow Andrew Kirell (@AndrewKirell) on Twitter
Have a tip we should know? tips@mediaite.com