GOP Strategist Calls Out Bernstein After He Doubles Down on GOP-Joe McCarthy Comparison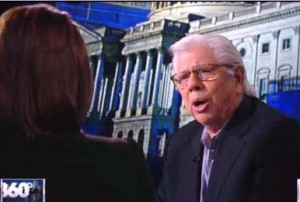 Legendary journalist Carl Bernstein caused quite a stir on Morning Joe Wednesday morning when he compared House Majority Leader Eric Cantor to Joe McCarthy. He doubled down on CNN Wednesday night, telling Anderson Cooper that Republicans are creating this "scorched-earth politics" and appeasing tea partiers like McCarthy was appeased all those years ago.
Bernstein accused the Cantor wing of the GOP for being "the most demagogic force in American politics… since Joe McCarthy," and explained exactly why he was singling out Cantor for this.
"McCarthyism was about taking a broad brush and creating a hysteria about something that didn't exist, a threat that didn't exist. And what Cantor has done, and what––the appeasement of McCarthy by Republicans is similar to the appeasement of Boehner and McConnell by Cantor and this wing of the Republican party that is willing to have a scorched-earth politics that says, 'To hell with the national interest! We're going to shut down the government, we're just going to destroy this presidency.'"
He added this is "beyond the fringe," but Republican strategist Ana Navarro jumped in to ask why Bernstein's going after Cantor, who's not a tea partier and not lobbing grenades at fellow Republicans or Obama. Bernstein said this is more about going after Obama "not as a political figure, but as an anti-Christ."
Navarro scolded Bernstein, saying "we've got to ratchet down the rhetoric," calling him out as well as a number of politicians on the left and right making outlandishly hyperbolic remarks.
Watch the video below, via
[photo via screengrab]
— —
Follow Josh Feldman on Twitter: @feldmaniac
Have a tip we should know? tips@mediaite.com
Josh Feldman - Senior Editor