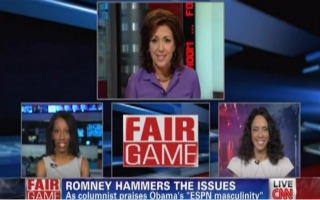 CNN hosted a panel discussion on Wednesday regarding each presidential candidate's likeability factor. Anchor Kyra Phillips asked her guests — Tara Dowdell, a Democratic consultant, and Republican strategist Crystal Wright — who is the most likeable of presidential candidates. Wright said that President Barack Obama campaigns on his personality because that is "all he has." She went on to say that since 2008 Obama "ran on his race" and that Obama brings his race up on the campaign trail to "win sympathy points from the American people" as the first black president.

RELATED: President Cool? Obama's DNC Speech Airs Same Night As MTV Awards
In a segment on CNN deabating which presidential candidate voters would like more, Phillips asked her panel guests if voters would choose Obama or former Massachusetts Gov. Mitt Romney as the person they would most like to sit down and "have a beer" with them.
"While certainly personality does play a role in electing a president, we've seen that happen, I don't think it plays a major role in electing a president," said Dowdell. She says that despite the slow economic recovery, President Obama has been a "steady hand" and contrasts strongly with Romney.
"The main Republican argument against this President is he didn't fix the broken mess left by a Republican president's policies fast enough," said Dowdell. "We don't have a rich people aren't rich enough problem."
Wright responded by saying she agreed with Dowdell. She said that the election will not be about personalities, it will be about the economy and that is why Romney is pulling ahead in the polls.
"The President continue to run on personality, because that is all he has," said Wright. "I'm going to say something that's going to upset some people right now – the President from day one, starting in 2008, ran on his race. And when he got elected, he keeps going back to 'I'm the first black president,' to c from the American people and boost his personality polls."
Dowdell said she was surprised by Wright's response, because she says it is usually Republicans who are continually admonishing Democrats for "playing the race card."
Watch the segment below via CNN:
Have a tip we should know? tips@mediaite.com