GOP'er Louie Gohmert And FBI's Robert Mueller Explode Over Investigation Into Boston Bombers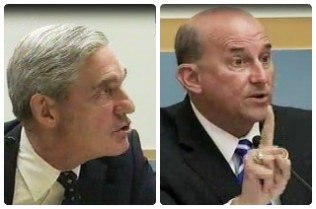 A tense exchange erupted on Thursday between Rep. Louie Gohmert (R-TX) and FBI Director Robert Mueller on Thursday during a House Judiciary Committee hearing. Gohmert suggested that the FBI was negligent in its responsibilities prior to the April attack on the Boston Marathon because they neglected to investigate local Muslim institutions and leaders. Mueller and Gohmert traded barbs after the FBI director insisted that the GOP representative had his facts wrong.

Gohmert insisted that a review committee report shows that the FBI never canvased the mosques around the Boston area until days after the attack. He added that the FBI was lax in not investigating Abdurahman Alamoudi, an individual convicted and imprisoned for supporting terrorism.
Gohmert noted that Alamoudi, who was "so helpful to the Clinton administration," also founded the mosque where the Tsarnaev brothers were radicalized.
RELATED: O'Reilly And Krauthammer Blast Obama For Not Denouncing Radical Islam In Wake Of Boston Bombings
"Why did no one go to the mosque and say, 'who are those guys?'" Gohmert asked.
"Your facts are not all together," Mueller replied.
They exploded in crosstalk when Gohmert insisted he had been specific. "Sir, if you're going to call me a liar you need to point out specifically where any facts are wrong," Gohmert insisted.
"We went to the mosque. Prior to Boston," Mueller countered.
"Were you aware that those mosques were started by Alamoudi?" Gohmert asked.
"I've answered the question, sir," the FBI director replied.
Watch the clip below via C-SPAN 3:
> >Follow Noah Rothman (@NoahCRothman) on Twitter
Have a tip we should know? tips@mediaite.com