GOP'er To Obama: 'Play Favorites' With Israel Over Palestine; No 'Moral Or Diplomatic Equivalency' There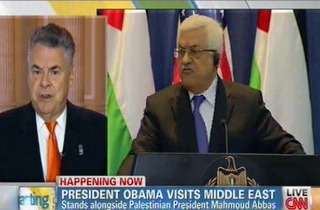 During a visit to the West Bank on Thursday, President Barack Obama held a joint press conference with Palestinian President Mahmoud Abbas. Immediately following that press conference, CNN asked Rep. Peter King (R-NY) for his reaction to the speech and to Obama's policy towards the Israel-Palestinian peace process. King asserted that Obama "should play favorites," and favor America's ally Israel over the Palestinians.

RELATED: CNN Duped By Sad Story Of Dead Palestinian Child 'Killed By Israel'?
King said that he thought Obama's trip to the Middle East has been successful thus far. He specifically said that he thought it was reassuring that Obama said the Israelis have the right to take unilateral military action against Iran if they judge that to be the right course.
Furthermore, King continued, it was appropriate for Obama to "single out Hamas" as an obstacle to peace in his press conference with Abbas. "I think he's laying the groundwork," King said. "I probably wish he would have done it a little bit earlier, but the fact is that's done."
King was asked about Obama's singling out of Israeli settlement construction as another roadblock in the way of peace and the appearance that the president is not "playing favorites" with either the Israelis or the Palestinians.
"I think, to a certain extent, we should play favorites," King replied. "There's not an equivalency between the Israelis and the Palestinians."
"I don't see either a moral or a diplomatic equivalency between the two," he added. "That doesn't mean that we can't work to bring peace between the two of them."
Watch the clip below via CNN:
> >Follow Noah Rothman (@NoahCRothman) on Twitter
Have a tip we should know? [email protected]