GOP's Ana Navarro Denounces Rep. King For Anti-Immigrant Comments: 'He Does Not Define Republican Party'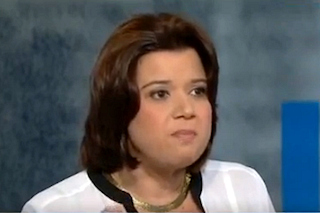 Ana Navarro, a self-described "modern Hispanic woman Republican from Miami" excoriated Congressmen Steve King of Iowa for his anti-immigrant comments on Sunday morning, calling him a "mediocre congressman" who "does not define the Republican Party."
King has been in hot water over his comments about drug-smuggling illegal immigrants with "calves the size of cantaloupes." Despite criticism from leaders of his own party, including John Boehner and Eric Cantor, King refused to apologize for them.
RELATED: Congressman Joe Garcia Fires Back at Rep. Steve King's 'Offensive' Remarks: 'Beneath The Dignity Of' Congress
"I want to commend Congressman King," Navarro said Sunday, "the King from New York, who's actually the King that I like, and I want to commend Speaker Boehner, Representative Cantor, for having come out this week and done what they've had to do: show leadership and speak and denounce the hateful, ignorant rhetoric of Steve King."
"It is enough. We have had enough of this man. He does not define the Republican Party. I think there's many more Peter Kings, many more John Boehners in Congress, than there are Steve Kings. He is a mediocre congressman, who makes news only when he says something this inflammatory."
Navarro agreed with with Peter King from an earlier segment, when he said that the many divisions within the Republican Party would be smoothed out by 2016. "Congressman King is absolutely right, that Republicans are going to decide in the next two and a half years, as we go, and have a nominee who is going to carry them and be a standard bearer," Navarro said.
Watch the clip below, via CNN:
—
>> Follow Evan McMurry (@evanmcmurry) on Twitter
Have a tip we should know? tips@mediaite.com