GOP's Blackburn During Obamacare Hearing: 'Some Like to Drink Out of a Red Solo Cup…'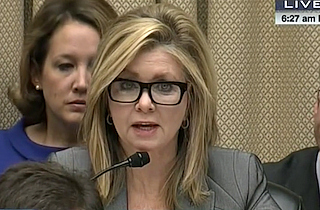 Representative Marsha Blackburn articulated her problem with losing a low-coverage insurance plan due to the Affordable Care Act's minimum requirements by noting that some people wanted minimal plans, in the same way some drive trucks and "like to drink out of a red solo cup."
"What do you say to 300,000 people in Florida you just mentioned, or to the 28,000 in Tennessee that cannot get health insurance?" Blackburn said. "Their plans are terminated. Is [Obama] keeping his promise to them?"
"First of all, congresswoman, they can get health insurance," Sebelius said. "They must be offered new plans, new options, either inside the market marketplace, or if they don't qualify for a financial subsidy, they can shop in or outside of the marketplace."
"What do you say to NBC News, who says they will lose their coverage?" Blackburn asked.
"In all deference to the press corps, many of whom are here today, I think it's important to be accurate about what is going on," Sebelius said. "They will have continuing coverage and offered new plans."
Blackburn told of a couple in her district who say they lost an insurance policy they liked due to the ACA.
"It's what they wanted," she said. "I will remind you: some people like to drive a Ford and not a Ferrari, and some people like to drink out of a red solo cup and not a crystal stem. You're taking away their choice."
Watch the full clip below, via CSPAN:
[Image via screengrab]
——
>> Follow Evan McMurry (@evanmcmurry) on Twitter
Have a tip we should know? [email protected]