Gosnell Attorney Blasts Fox News For 'Irresponsible' Documentary, Says It Was Designed To Sway Jury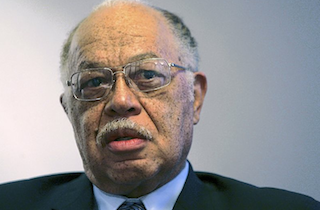 Fox News viewers may recently have viewed a documentary about the murder trial involving abortion doctor Kermit Gosnell, who allegedly killed babies who were born alive after botched abortions. After it aired, Gosnell's attorney expressed his dissatisfaction with the network's coverage — arguing that the documentary was biased and designed to influence the jury.
The documentary in question, See No Evil, aired on Fox News on Friday (plus over the weekend) and was hosted by Bret Baier. According to the network, the hourlong special investigates the doctor, "reveals that Dr. Kermit Gosnell has been at the heart of abortion-rights movement for 40 years," and includes "shocking" interviews with some of his patients.
The attorney, Jack McMahon, asked the judge to question whether members of the jury had seen the documentary. McMahon argued that the network was "irresponsible" to air it, and that it was intended to sway the jury with what he argued was a biased portrayal of the doctor. None of the jurors — who were instructed daily to avoid media coverage of the trial, appeared to indicate they'd seen it, according to Delaware Online.
Gosnell attorney John "Jack" McMahon called it irresponsible journalism by Fox News to air what he felt was a biased documentary on Gosnell while the jury was out deliberating. McMahon said it had the potential to poison the jury panel if any of the jurors saw it because it focused primarily on accusations in the grand jury report and included little of Gosnell's defense from the trial.
JD Mullane of the Bucks County Courier Times also reported:

The jury is currently in deliberation.
Have a tip we should know? tips@mediaite.com