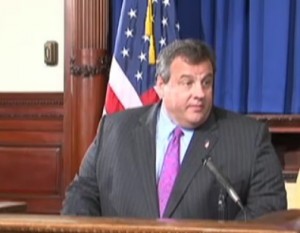 In a televised press conference Tuesday afternoon, New Jersey Gov. Chris Christie put what will likely be only a slight damper on speculation that he'll enter the 2012 GOP field by announcing that he will not be running for president in 2012. Christie told reporters that "for me, the answer was never anything but 'no.'"
He did acknowledge that the groundswell of support for his prospective bid caused him to "seriously consider" it, but added, "now is not my time."

Christie's decision depended heavily on his desire to finish his term as New Jersey Governor, concluding, "New Jersey, whether you like it or not, you're stuck with me."
While taking questions from reporters, Christie said he won't rule out future employment, "be that President of the United States, or working at NBC."
He also related a weird anecdote about a supporter from Nebraska who sent his children a Fed-Ex urging them to encourage Christie to run.
In the run-up to the presser, the political media breathlessly hyped leaked reports that Christie wouldn't run. Y'know what? Mediaite had this scoop last week, the week before that, one month ago, hell, I think Christie's high school newspaper reported it on the eve of his graduation. While the fervor surrounding a Christie run is understandable among Republicans, desperate for anybody who isn't named for a piece of baseball equipment, and has a chance to beat Barack Obama.
The media's participation in this spectacle, however, is a different story. As awesome as it would be to cover a Chris Christie presidential run (he makes for better copy than the offspring of an ED-209 and a Xerox machine), journalists aren't supposed to let their drooling desire for political pyrotechnics interfere with their ability to understand English.
If Christie's announcement does finally quash the media's speculation (which it probably won't), the next big, stupid question will be "Who will Christie endorse?"
Just because Christie had big potential as a candidate doesn't mean his endorsement will be helpful to one of the remaining candidates. While props from a pro-gun control, climate change-believing, Muslim-appointing governor of the best state in the world might seem like a good thing, these aren't selling points to a GOP base that worships Herman Cain. Speculating on Christie's endorsement is nearly as big a waste of time as speculating on his presidential run was.
Besides, if Christie is smart (and has an eye toward a 2016 run), he won't endorse anyone, at least not this early. There's no percentage in endorsing now, and possibly getting tied to a loser, or worse, to Mitt Romney.
The one surprising bit of news from today's press conference was that Sarah Palin's tour bus was nowhere in the vicinity.
Here's video of Christie's announcement:

Have a tip we should know? tips@mediaite.com