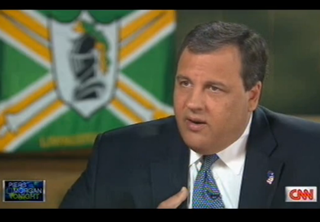 New Jersey Governor Chris Christie has been repeatedly touted as one of the strongest potential 2012 candidates, and just as often shot down that notion through increasingly humorous– and increasingly frustrated– refusals to run. Christie spent the hour with Piers Morgan tonight, who may have gotten further than anyone had in wheedling presidential ambitions out of the governor: he "100%" won't run in 2012, but refused to answer the same about 2016.
Morgan noted the most frustrated of those denials– "what do I have to do to convince you people I'm not running, commit suicide?"– which Christie noted was about as honest as he could get, though "my wife didn't think it was the funniest thing I've ever said." Morgan seemed not to understand why the staunch refusal existed, reminding him that he was "the guy the party likes" and that "your party is crying out for a savior." "That's not the way you make decisions like running for President of the United States," Christie argued, insisting that he would rather say "I know I'm ready; I hope I can win" than "I know I can win; I hope I'm ready." He simply argued that he didn't "want to be President."
Morgan challenged him yet again, suggesting that he wasn't 100% sure he wasn't running. When Christie said he was that certain, without skipping a beat, Morgan changed the paradigm: "are you 100% certain you won't run in 2016?" "There are just so many variables," Christie admitted, that that wasn't a question he was prepared to answer.
The segment via CNN below:

Have a tip we should know? tips@mediaite.com