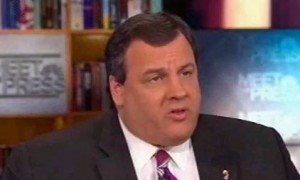 New Jersey Governor Chris Christie appeared on Meet the Press today to do damage control for Mitt Romney and to explain why Newt Gingrich would not be an ideal Republican nominee despite his strong victory in South Carolina last night. He claimed that Gingrich's past actions have embarrassed the Republican party, and Mitt Romney was more suited to be the nominee because of his record and how he conducted himself in office as opposed to Gingrich.
RELATED: Chris Christie Threatens To Go 'Jersey Style' On Iowa If They Don't Vote For Mitt Romney
David Gregory asked Christie to explain what about Newt Gingrich's politics or his character disqualified him from being the Republican nominee against President Obama. Christie suggested that Gingrich was too much like Obama, and "we don't need another legislator in the Oval Office." He reminded Gregory that Obama jumped directly from a position as a legislator to the presidency, making the argument that executive experience was vitally important for the next president to draw a stark contrast with how Obama has governed.
And Newt Gingrich, in Christie's estimation, does not possess the kind of executive experience that he believes Romney does. Gregory pointed to a comment Christie made in December that Mitt Romney would not "embarrass America" and asked Christie if he thought Gingrich would. Christie agreed, pointing to times in the past when Gingrich has embarrassed the Republican party.
"We all know the record. He was run out of the speakership of his own party, he was fined $300,000 for ethics violations. This is a guy who's had a very difficult political career at times and has been an embarrassment to the party… The fact of the matter is I don't need to regale the country with that entire list again except to say this. I'm not saying he will do it again in the future, but sometimes past is prologue."
Christie said he wouldn't go after Gingrich's character, but thought that how one conducts himself while in public office is a significant factor for voters to consider. However, he did give Gingrich credit for doing great things for the GOP in the past. When asked if a Gingrich nomination would be good news for the Obama reelection team, Christie countered by saying a Romney nomination would certainly be bad news for them.
RELATED: Chris Christie: 'Those Who Underestimate Barack Obama, Underestimate Him At Their Own Peril'
However, Christie admitted that there is a possibility Gingrich could beat President Obama in the general election, even if he slightly hesitated before saying so.
Watch the video below, courtesy of NBC:
Have a tip we should know? tips@mediaite.com
Josh Feldman - Senior Editor