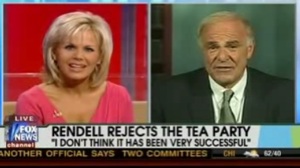 Pennsylvania Governor Ed Rendell was a guest on Fox and Friends this morning, for what turned into a spirited discussion over both the Tea Party phenomenon, and the media's role in helping shape it. When host Gretchen Carlson challenged the Governor over his assertion that this story has been overreported, Rendell stuck to his guns, saying of Fox News "you guys deserve more credit for marshalling that anger than the Tea Partiers do."
It didn't take long to realize that this would be an entertaining segment, as Rendell came out of the gates with guns blazing:
Gretchen Carlson: We're joined by Pennsylvania Governor Ed Rendell. Good morning to you.

Gov. Rendell: Let me start by saying, the Tea Partiers have an absolute right to demonstrate and anything they want to say, this is a free country and we should all support their right to do that. But number two, I think they've been very successful because I think the main stream media, the media all over the country, has given them too much credit. I think they're really sort of following the anger rather than creating the movement. Look, when they had the rally for health care against the health care bill in Washington, they through 1,000 people. On Tax Day they drew 1500 people. If I called a rally for stronger laws for puppies, I could get 100,000 people

Carlson: I heard that line yesterday. It's a good one.

Rendell: And it's the truth.
The media's role in playing up the Tea Party movement has been a trending topic in the realm of opinion media, and judging by previous comments made by Rendell on The Rachel Maddow Show last week, the Democrats appear to be aggressively fighting back with a time-honored strategy: blame the media.
Have a tip we should know? tips@mediaite.com