Gov. Jan Brewer And President Obama Have 'Intense' Discussion On Arizona Tarmac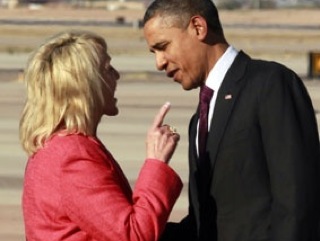 Air Force One landed in Phoenix, Arizona today, and was greeted by the governor of that state. The exchange between President Obama and Governor Jan Brewer quickly went from being a friendly greeting to something reporters described as an "intense" exchange, however, and the photo coming out of that encounter proves it: the President and Gov. Brewer seem to disagree on whether her new book was respectful enough to the President.
RELATED: The Lady Doth Protest: Arizona Gov. Jan Brewer Tells Morning Joe 'We're Not Racist'
According to the White House pool report, the governor and President "spoke intensely for a few minutes. At one point, she pointed her finger at him." When asked about the exchange, Brewer said the President was "disturbed about my book," and that she tried to explain that "I have all the respect in the world for the office of the president. The book is what the book is. I asked him if he read the book. He said he read the excerpt. So." The conflict, she continued, was due to the fact that the President did not feel that he had been treated "cordially." Gov. Brewer noted to reporters that the President left the conversation mid-sentence and assured them that she would "re-group."
Reporters excepted, we may never know the exact contents of the conversation and, as the President's visit moves along, tensions may assuage. But for now, there's this picture, which one can imagine can't possibly escape making a cameo in elections ads in the future.
Have a tip we should know? tips@mediaite.com