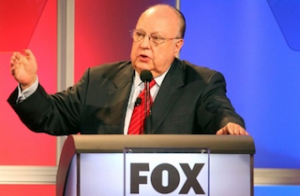 Fox News has a long history of serving as a revolving door for people who move between working in the news media and working in Republican politics. But never has an actively serving political figure served in any official capacity on the show. Will Ohio Gov. John Kasich be the first?
Kasich, who used to work for Fox, appeared on the network Tuesday after it was officially declared he won reelection. Asked if he has any presidential ambitions, he joked he'd like to return to his home at Fox.
"Well, you know, what I'm really bucking for in the short term is I wonder if I can come back and host [The O'Reilly Factor] again, at least once or twice," Kasich said. "It would be a lot of fun. I don't think you've ever had a sitting governor do that."
Anchor Megyn Kelly replied, "I think you are one of the few people [O'Reilly] actually would allow to take over that show."
Seemed like a joke. But The Columbus Dispatch asked Kasich about it the following day.
"I think if I want to make it happen they will," Kasich said after claiming that Fox News CEO Roger Ailes had called him. "I enjoy doing it."
However, Politico has since ran a statement from Fox saying Ailes was just "joking about hosting a show."
Other media-turned-Republican politics (and vice versa) personalities who have enjoyed stints at Fox: former Arkansas Gov. Mike Huckabee, former Massachusetts Sen. Scott Brown and former vice presidential candidate Sarah Palin.
Watch via Fox News:
[Photo via Fox News]
— —
>> Follow Eddie Scarry (@eScarry) on Twitter
Have a tip we should know? tips@mediaite.com