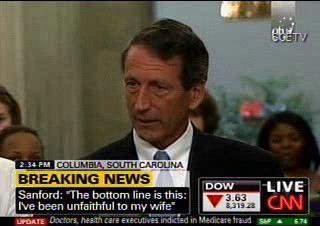 In what may have been the most poorly-executed, excruciatingly-detailed news conference in recent memory, Gov. Mark Sanford explained his five-day absence today in a way that improbably made people forget about the whole "missing Governor" aspect of the story.
"Surreal" may be the best word to describe what occurred: or maybe just heartbreakingly awkward. Here's a play-by-play of how the newser went:
• Divert: Sanford takes the podium, and immediately launches into a lengthy speech about the Appalachian Trail. "I told her about my love for the Appalachian Trail," he said. "I used to organize hiking trips actually when I was in high school." It's important to note, he wasn't on the Appalachian Trail. That was his decoy story that he told his staff so he wouldn't be found. Plus side of the ridiculous opening: a new code term has been born. As in, "We met up late last night and went 'hiking on the Appalachian Trail.'"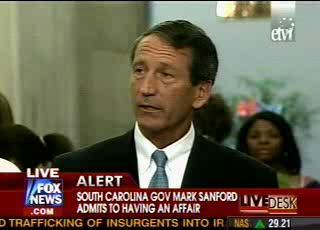 • Apologize: Next, Sanford apologizes to everyone he knows, and many who he doesn't. This lasts 5 minutes. Shout-outs range from the usual wife and kids, to the ENTIRE NATION. "Let me throw one more apology out there, and that is to people of faith across South Carolina, or for that matter, across the nation."
• Admit: Sometime around the seven-minute mark, comes the reason for this whole pre-apology: "I've been unfaithful to my wife."
• Describe: Now let me tell you about this person I met! "To give you way more detail than you really want," says Sanford during the Q&A, ignoring the fact that the media will eat up every single last minute detail he's willing to offer up. And he does. Here's what we know about the Persona de Argentina: When they first met eight years ago, the person was separated, and Sanford had a "serious conversation about why she ought to get back with her husband for the sake of her two boys." Oh by the way, yes, it's a woman. Then they exchanged email addresses, and corresponded over the next few years. But a year ago, something sparked, and, "I've seen her three times since then since then, during that whole sparking thing."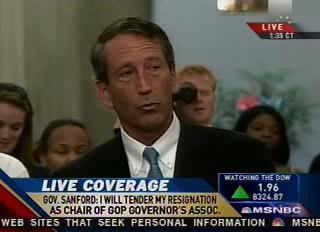 • Stumble: After getting told by his staff to answer one more question and bow out, he answered a quick one and then another, and started to answer a third until his staff literally began to pull him away from the microphone.
In some ways, Sanford elicited some level of sympathy. At one point, he said, "I spent the last five days crying in Argentina." But we have to wonder whether he was forced into the full-blown, very public confession. (Update: He was.)
Sanford was LeBron James – a superstar (he was viewed as one of the 2012 GOP presidential frontrunners) who suffered from a bad supporting cast and even worse coaching. Still, like all politicians, there could very easily be a resurrection, and long career. (Update: With Shaq at his side!)
The press, of course, loved it. And the fall-out will remain a story for days and likely weeks to come. In some ways, the sad personal story is a diversion from the painful international story of Iran. As FNC's Shepard Smith said after, "It looks like we've got a series of lies here. Lies to a newspaper, lies to family, lies to staff, lies told to people who would lie for him. And…does it feel to you this road may have an end in sight?"
Maybe – but for the media, it's just the beginning.
Have a tip we should know? tips@mediaite.com