Gov. Mitch Daniels Not Running For President: 'I Love My Country, I Love My Family More'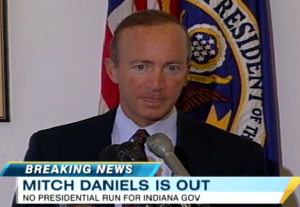 Indiana Governor Mitch Daniels today ended the speculation about his potential campaign for the Republican nomination: he's out. Daniels was considered by many to be one of the last serious Republicans available to enter the race, and his absence will certainly increase pressure on several other prominent Republicans to consider running.
Daniels sent an e-mail to his supporters explaining his decision:
"In the end, I was able to resolve every competing consideration but one, but that, the interests and wishes of my family, is the most important consideration of all. If I have disappointed you, I will always be sorry. If you feel that this was a non-courageous or unpatriotic decision, I understand and will not attempt to persuade you otherwise. I only hope that you will accept my sincerity in the judgment I reached."
Additionally, Daniels provided a statement to the Indianapolis Star:
"The answer is that I will not be a candidate. What could have been a complicated decision was in the end very simple: on matters affecting us all, our family constitution gives a veto to the women's caucus, and there is no override provision. Simply put, I find myself caught between two duties. I love my country; I love my family more."
Given the fact that Daniels and his wife were known to have had a unique marital history (she left Daniels and their four daughters to marry a different man, only to return years later to re-marry Daniels), it seems the national spotlight was not something desired by the family. As many Republicans will find this news disappointing, at least two are likely smiling: Mitt Romney and Tim Pawlenty.
Watch the clip from ABC News below reporting on Daniels' decision:

Have a tip we should know? tips@mediaite.com