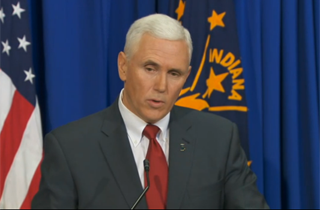 In a press conference this afternoon, Gov. Mike Pence (R) defended the Religious Freedom Restoration Act that he signed into law, but promised to add a "legislative fix" that would make it clear: businesses are not allowed to discriminate against anyone, despite their religious beliefs.
"I was proud to sign this law," he said. "I believe religious liberty is our first freedom, and it is vital to millions of Americans who cherish faith as I and my family do."
The law, which is scheduled to take effect in July, was widely criticized for the lack of language that would protect gay and lesbian customers from discrimination by business owners who deny them services based on their sexual orientation.
Pence called that interpretation of the new law "mischaracterization" — "This law does not give anyone the right to discriminate, the right to discriminate against anyone in this state" — but called on the state's general assembly to "confront" that misconception by putting a bill on his desk, by the end of this week, that would "clarify" the law and say that the bill would not allow businesses to discriminate against gays and lesbians. "it is the fix of a bill that through mischaracterization has been greatly misunderstood," he said.
Adding that he himself "abhor[red] discrimination," Pence said he was working quickly to correct this "smear" against the reputation of his state. "Hoosier hospitality is not a slogan, it's our way of life. Hoosiers are the most kindest, most generous people on the face of the Earth."
Watch below via CNN:
[Image via screenshot]
—
>> Follow Tina Nguyen (@Tina_Nguyen) on Twitter
Have a tip we should know? tips@mediaite.com