Gov. Whitman: Romney Given Chances To Stand Up To Base, But Hasn't Seized His 'Sister Souljah' Moment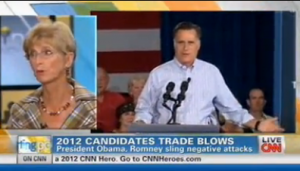 Former New Jersey Governor Christine Todd Whitman stopped by CNN's Starting Point on Tuesday, where she weighed in on the increasingly heated election battle between Barack Obama and Mitt Romney, explaining why candidates go after "red meat" issues that, while often exciting to discuss, don't make much of an impact come voting time.
"Who do you worry about?," she said. "Your base. And your base tends to be those people who do vote in primaries and are now voting more tend to be the people who are the most partisan. And so they respond to the red meat, as we call them, issues that aren't necessarily the ones that determine our everyday life. I mean, how many people wake up and they sit down at the breakfast table and say, 'Oh, my god, a gay couple moved in next door'? That's not what they talk about. They talk about, 'Am I going to be able to afford the rent? What's going to happen to my child's education? How do I afford health care?' Those are the issues that we need to have discussed."
When asked whether Romney has done a good job "standing up to the base of the party," Whitman replied thusly:
I have seen some moments where I thought he had a freebie to do that. And he didn't. Well, the one that comes to mind the first and is really etched in my memory is the debate that was sponsored by the Tea Party when a young soldier serving our country overseas — I can't remember whether it was in Afghanistan or Iraq — was on the video asking a question. He was gay. And the audience booed.

And I waited for one of those candidates to stand up and say, "Look, you may not agree with his lifestyle, but this fellow is over there in uniform fighting to protect your life. So give him some respect."
What Romney really needs right now, she and the panel agreed, is to seize upon a "Sister Souljah" moment of his own.
Have a look at her comments, via CNN:
Have a tip we should know? [email protected]